Teachers everywhere are working tirelessly to design lessons and activities that reflect 21st century learning skills that promote greater conceptual understanding and outcomes. Whilst understanding how to teach effectively with technology can be challenging, there are many simple to use tools out there, that help develop learning outcomes and enhance the teaching and learning process. Energising the Curriculum is vital, if students are to acquire new knowledge and retain it, so providing them with the right tools, imperative.
Historically, PowerPoint has proved a useful tool for students to produce presentations, showcasing their knowledge and understanding of a concept taught. However, we may well have witnessed their heavy focus around making fonts technicolour, motion paths whizz across the slide and transitions captivating for the audience. Of course, the creative aspect is important for capturing audience attention, it is the content that we want greater focus on.
Introducing Microsoft Sway, the digital storytelling app, designed to put together presentations quickly with built in presentational features, where content is the focus. Start a Sway presentation from scratch or type in a theme/keyword, focussing primarily on the content, allowing the app to make it captivating for it's audience. It is just like having a corkboard, where you add your content onto and the application puts it together for you. Just like having a virtual assistant, allowing you to focus more on content and less on those presentation features. Not only is it simple to use, but great for collaboration too! Up to 10 students can work on a single Sway at any time, promoting teamwork and providing every student with a voice during the learning process.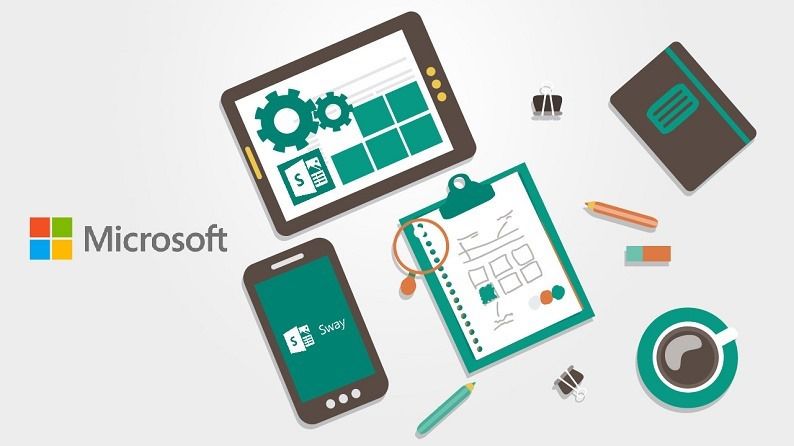 .21st century educators are behind the driving force of using Sway in the classroom to spark creativity in students. The days of writing lengthy essays are long over with this powerful content presentation application. Sway delivers attractive features and brings ideas to life in minutes. A teacher can use Sway interactively to add text, links, picture, video and audio to share content.
Engaging students with technology is core to narrowing the achievement gap in children's education. Sway is incredible for building fast presentations to any kind of audience and sharing it as an online tool for educators to use as part of their lesson, CPD session or even school newsletters. Here are the top 5 tips to engage students to #SwayEveryday
Here's a quick tutorial video to help get you started:
[embed]https://www.youtube.com/watch?time_continue=3&v=GjWkQq_N2Cs[/embed]
Top 3 Tips for using Sway in the Classroom:
Inside and Out Collaboration: Empower the students to share responsibilities of creating their Sway and encourage them to work both in and out of the classroom. This is crucial for anytime, anywhere learning.
Create stories: Digital literacy plays an important role in language development for students, especially Key Stage One. Students have a thirst for reading stories. Educators have the ability to create an interactive story book by embedding text pictures and audio. Sway benefits from text book navigation, giving the reader a fun experience of reading their favourite stories.
New ways to News: Creating a school newsletter using Sway has never been easier and once you have decided on a template, you'll only need to amend the content each week. Embed picture, videos and text and transform communication in your school instantly. Parents can easily access the Sway through their devices at home, requiring only a link sent directly to them.